Beyond Shields Branding
focus: branding + logo design
timeline: 4 weeks
---

Beyond Shields offers personalized face shields that protect the wearer while allowing them to express their identity. The founder came to me during the business development stage to craft a logo that reflects the brands values.

Company Vision
We value freedom of expression of all individuals and the improved community health that results from face shield usage. Our belief is that by providing a face shield that is comfortable to wear and provides a fun means of self-expression by the wearer will result in more shield utilization and a better all-around experience.






Process


The initial target demographic of the product was to be tattoo artists. Their work relies heavily on personal identity and visual branding and they work closely with clients, making them a likely early adopter of personalized face shields.

Taking that into consideration - I began my process by creating some moodboards of tattoo aesthetics. I also created a moodboard of some of the largest medical corporation logos as well as existing options for custom face shields.

The brand of Beyond Shields lay somewhere between these two extremes.


The messaging of BeyondShields is all about identity and personality - so it seemed logical to try and use a face in the logo. As for the type, we wanted something that was bold and solid, but with personality. I created these two moodboards as jumping off points for discussion with the client.



During out discussion, the client expressed that he liked the overall direction but wanted to make sure the logo felt trustworthy and not too whimsical. Based on that feedback, I created this final moodboard and began sketching.


Selected Sketches

After playing around with various typographic possibilities and creating a multitude of faces with varying levels of abstraction, I arrived at a face shield icon that had a nice balance of simplicity, friendliness, and felt relatable. I then moved into the digital realm to create a finalized logo and logotype.


Final Logo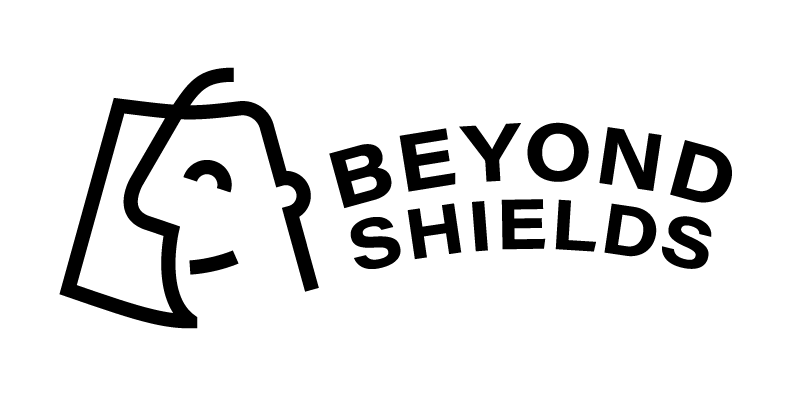 full logotype
logo icons
alternate icons
badges




︎ related projects ︎